CCNA – IP Address Questions
Here you will find answers to IP Address Questions
Question 1
Which IP address can be assigned to an Internet interface?
A. 10.180.48.224
B. 9.255.255.10
C. 192.168.20.223
D. 172.16.200.18
Explanation
The IP address which can be assigned to an Internet interface is a public IP address. Private IP address are found in the following ranges:
* From 10.0.0.0 to 10.255.255.255
* From 172.16.0.0 to 172.31.255.255
* From 192.168.0.0 to 192.168.255.255
Also some special IP addresses (like the local loopback address 127.0.0.1, multicast addresses…) can't be assigned to an Internet interface.
In this question only answer B doesn't belong to the range of private IP address -> B is the correct answer.
Question 2
What will happen if a private IP address is assigned to a public interface connected to an ISP?
A. Addresses in a private range will be not routed on the Internet backbone.
B. Only the ISP router will have the capability to access the public network.
C. The NAT process will be used to translate this address in a valid IP address.
D. Several automated methods will be necessary on the private network.
E. A conflict of IP addresses happens, because other public routers can use the same range.
Question 3
When is it necessary to use a public IP address on a routing interface?
A. Connect a router on a local network.
B. Connect a router to another router.
C. Allow distribution of routes between networks.
D. Translate a private IP address.
E. Connect a network to the Internet.
Question 4
When a DHCP server is configured, which two IP addresses should never be assignable to hosts? (Choose two)
A. network or subnetwork IP address
B. broadcast address on the network
C. IP address leased to the LAN
D. IP address used by the interfaces
E. manually assigned address to the clients
F. designated IP address to the DHCP server
Explanation
Network or subnetwork IP address (for example 11.0.0.0/8 or 13.1.0.0/16) and broadcast address (for example 23.2.1.255/24) should never be assignable to hosts. When try to assign these addresses to hosts, you will receive an error message saying that they can't be assignable.
Question 6
The network administrator has asked you to check the status of the workstation's IP stack by pinging the loopback address. Which address would you ping to perform this task?
A. 10.1.1.1
B. 127.0.0.1
C. 192.168.0.1
D. 239.1.1.1
Explanation
The IP address of 127.0.0.1 is the well-known loopback IP address on a computer. When try pinging this address, you are testing if the TCP/IP stack is working or not.
Question 7
Which command is used to see the path taken by packets across an IP network?
A. show ip route
B. show route
C. traceroute
D. trace ip route
Explanation
Notice that "traceroute" is the command used on a Cisco router while the "tracert" is the command used in MSDOS of Windows. They have the same purpose of finding the path that packets use to reach a destination network.
Question 8
Refer to the exhibit. Which value will be configured for Default Gateway of the Local Area Connection?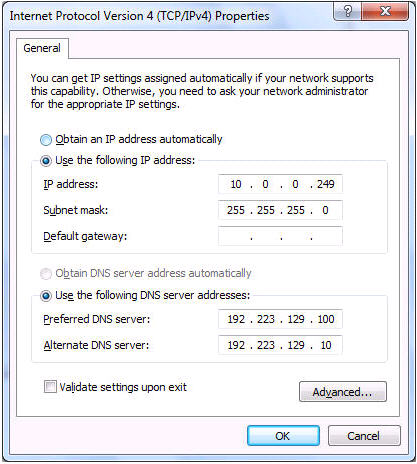 A. 10.0.0.0
B. 10.0.0.254
C. 192.223.129.0
D. 192.223.129.254
Explanation
The default gateway IP address must be on the same network with the configured host's IP address and not is the network or broadcast address -> B is correct.
Question 9
Which of the following describe private IP addresses? (Choose two)
A. addresses chosen by a company to communicate with the Internet
B. addresses that cannot be routed through the public Internet
C. addresses that can be routed through the public Internet
D. a scheme to conserve public addresses
E. addresses licensed to enterprises or ISPs by an Internet registry organization
Question 10
Refer to the exhibit. A network technician is asked to design a small network with redundancy. The exhibit represents this design, with all hosts configured in the same VLAN. What conclusions can be made about this design?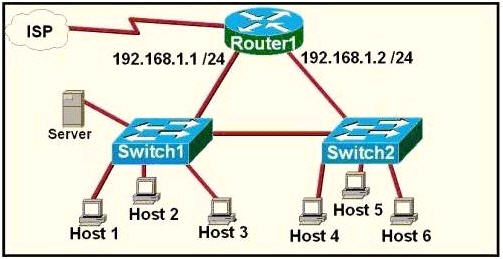 A. The design will function as intended
B. Spanning-tree will need to be used.
C. The router will not accept the addressing scheme.
D. The connection between switches should be a trunk.
E. The router interfaces must be encapsulated with the 802.1Q protocol.
Explanation
Each interface on a router must be in a different network. If two interfaces are in the same network, the router will not accept it and show error when the administrator assigns it.